Apakah Anda cukup baik dalam bidang pemulihan data? Berapa banyak kasus pemulihan data yang telah Anda tetap menggunakan Dolphin Data Recovery Tools? Dolphin data Lab unik 'Sertifikat Of Excellence'Membantu untuk mengevaluasi.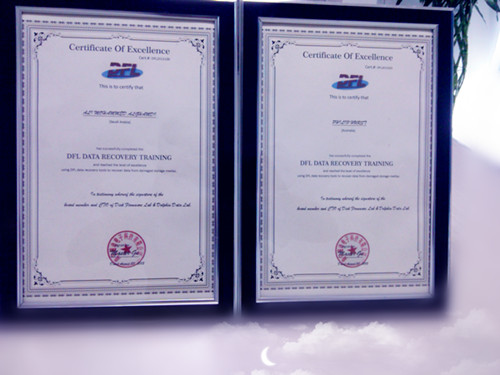 Pengguna memenuhi persyaratan sebagai berikut dapat mengajukan permohonan untuk 'Sertifikat of Excellence ' dari Dolphin data Lab:
1, Pengguna telah menggunakan Dolphin Data Recovery Alat untuk setidaknya setengah satu tahun dan telah menghadiri kursus pelatihan pemulihan data DFL maju;
2, Pengguna telah menggunakan Dolphin Data Recovery Tools untuk beberapa waktu dan telah tetap lebih dari 100 recovery data dan perbaikan hdd kasus.
Catatan:
1, Sertifikat of Excellence diterbitkan oleh Dolphin data Lab ditandatangani oleh Guru Gu, pencipta seri DFL alat;
2, Sertifikat of Excellence dapat memverifikasi kemampuan pengguna untuk menangani perbaikan dan pemulihan data hdd kasus yang berbeda menggunakan alat pemulihan Dolphin Data, itu tidak menyatakan sama sekali bahwa pengguna dapat menggunakan alat-alat lain untuk kemampuan pemulihan data yang berkualitas.
Jika pengguna memenuhi persyaratan di atas atau pertanyaan dengan sertifikat pelatihan ini pemulihan data, silahkan email ke support@dolphindatalab.com.
Berikut ini adalah beberapa aplikasi misalnya dari pengguna Dolphin yang telah dimiliki sertifikat ini: