China has the largest population of the world and also its internet users. It has also the fastest growing data recovery market. if you want to do data recovery business in China, there are some important basic information we should learn which will help to understand more about the China data recovery situations including the data recovery companies, data recovery tools used there and the data recovery cost in China.
China Country Code: 86
Telephone Country Code:     86
ISO Country Code, 2 Digit:     CN
ISO Country Code, 3 Digit:     CHN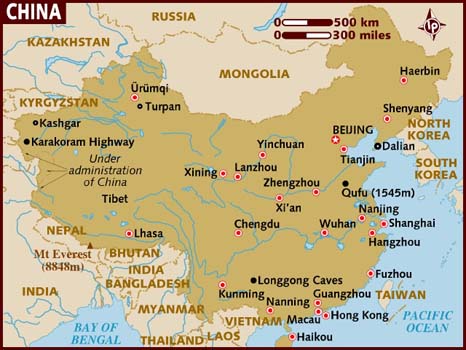 CHINA For centuries China stood as a leading civilization, outpacing the rest of the world in the arts and sciences, but in the 19th and early 20th centuries, the country was beset by civil unrest, major famines, military defeats, and foreign occupation. After World War II, the Communists under MAO Zedong established an autocratic socialist system that, while ensuring China's sovereignty, imposed strict controls over everyday life and cost the lives of tens of millions of people. After 1978, his successor DENG Xiaoping and other leaders focused on market-oriented economic development and by 2000 the output had quadrupled. For much of the population, living standards have improved dramatically and the room for personal choice has expanded, yet political controls remain tight. Many elements that today are of comun use in modern life including paper, gunpowder, fireworks, credit banking, paper money and pasta originated many years ago in China. China is the most populous country in the world and has one of the fastest growing economies in the world today.
Capital of China:      Beijing(Peking)
China Languages      Standard Chinese or Mandarin (Putonghua, based on the Beijing dialect), Yue (Cantonese), Wu (Shanghainese), Minbei (Fuzhou), Minnan (Hokkien-Taiwanese), Xiang, Gan, Hakka dialects, minority languages (see Ethnic groups entry)
China Currency:      Yuan Renminbi (CNY)
China population: 1,338,612,968('09)
384,000,000 Internet users as of Dec/09, 28.7% penetration, per CNNIT
China Electrical Outlet:     220 V,50 Hz
Data Recovery Companies in China:
Coming soon
The larget data recovery company in China and the largest manufacturer of data recovery tools for all types of storage medias in Asia.
Plug/socket/Electrical Outlet worldwide lookup table
Data Recovery Tools Used in China

Data Security tools used in China

Dolphin Data Lab welcomes your comments and share with us your ideas, suggestions and experience. Dolphin Data Lab is dedicated in sharing the most useful data recovery information with our users and only if you are good at data recovery or related knowledge, please kindly drop us an email and we will publish your article here. We need to make Dolphin Data Lab to be the most professional and free Data Recovery Resource Center.
Video: Basic Knowledge of HDD Data Recovery