WD10JMVW-11AJGS4 Data Recovery Steps

Dolphin data recovery engineers are teaching the standard data recovery steps from Western Digital WD10JMVW-11AJGS4 USB3.0 My Passport hard drives.
Drive model number: WD10JMVW-11AJGS4
Capacity: 1TB
USB3.0
Head/Platter number: 4 heads/2 Platters
When connecting the patient USB hdd to pc, HDD is not detected in disk management and sometimes hang the pc. Please note, the case to be discussed has no physical head damage, just firmware corruption. If the drive has physical head damage, users need to swap the heads first with Hard Drive Ramp Toolkit Pro. and then use DFL-SRP for WD to fix the firmware failure and finally use DDP data recovery program to extract the data.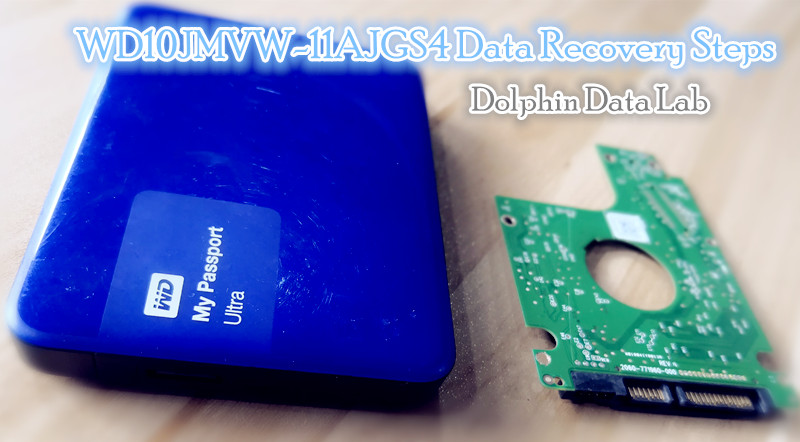 Please note: WD10JMVW-11AJGS4 has encryption problem on SA and over 80% cases are caused by the common firmware corruption.
Here are the steps to recover lost data from these cases:
Step 1: Swap the USB PCB with compatible SATA PCB(Users can get compatible WD SATA PCB here)
Step 2: Transfer the ROM chip(U12) from USB PCB to SATA PCB;
Step 3: Install the SATA PCB to patient HDD;
Step 4: Connect patient HDD to DFL-SRP hardware, Short connect TV9 and TV10 and power on the drive and wait until the drive gets ready;
Step 5: Enter the program and backup all firmware modules;
Step 6: Backup original ROM, Bypass SA and power off;
Step 7: Power on the drive, auto load ATA, get details and enter the program;
Step 8: Load module directory to RAM (If the FW can be read/written successfully, no need to use this step);
Step 9: Common Repair-Slow Fix Option 1;
Step 10: Write original ROM back;
Step 11: Power off and on and go to DDP data recovery program;
Step 12: Go to file extraction and all data has been there ready for extraction.
Any question is welcome to sales@dolphindatalab.com or add Dolphin Skype ID: dolphin.data.lab
https://www.dolphindatalab.com/wp-content/uploads/2018/05/wd10jmvw-11ajgs4-data-recovery-steps.jpg
220
707
Stanley Morgan
https://www.dolphindatalab.com/wp-content/uploads/2022/02/280_Dolphin-newest-logo.png
Stanley Morgan
2018-05-24 15:58:50
2018-05-24 16:09:48
WD10JMVW-11AJGS4 Data Recovery Steps