WD2003FYPS-27Y2B0 Reset Smart And Repair Firmware Failures

This is one case study from one Dolphin user from Mexico and this client uses Dolphin tools to refurbish hard drives and he met some problem in handling these western digital enterprise level hard drives on smart clearing issue and firmware repair issue.
HDD ID details:
Model-WD2003FYPS-27Y2B0; Capacity: 2TB; PCB: 2060-771642-003 REVA;
Family: DF4PL_RE
Symptoms:
Drives of this family are very different from other hard drives, users cannot access to the service area and the firmware modules are empty and the ID information couldn't be obtained properly and some information obtained is even wrong, users cannot reset smart or perform other kind of firmware operations.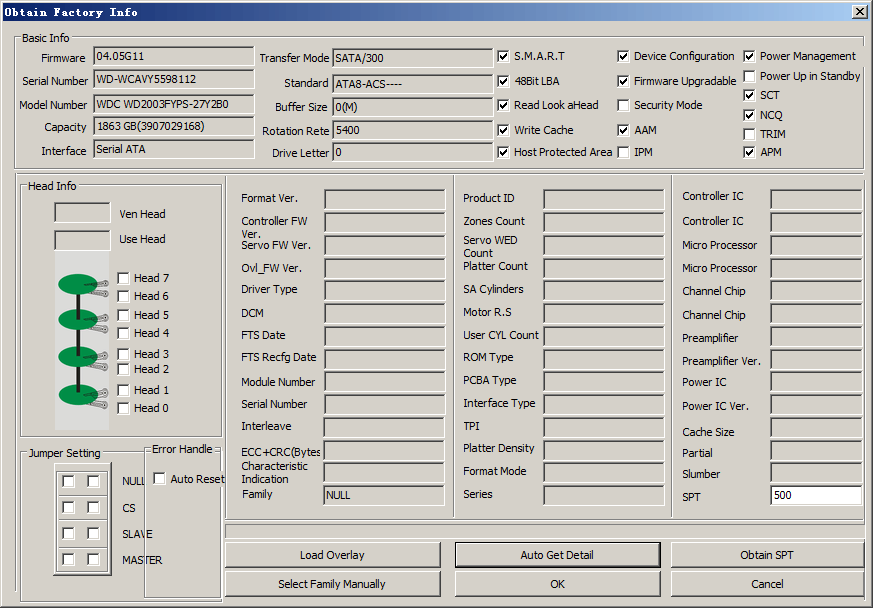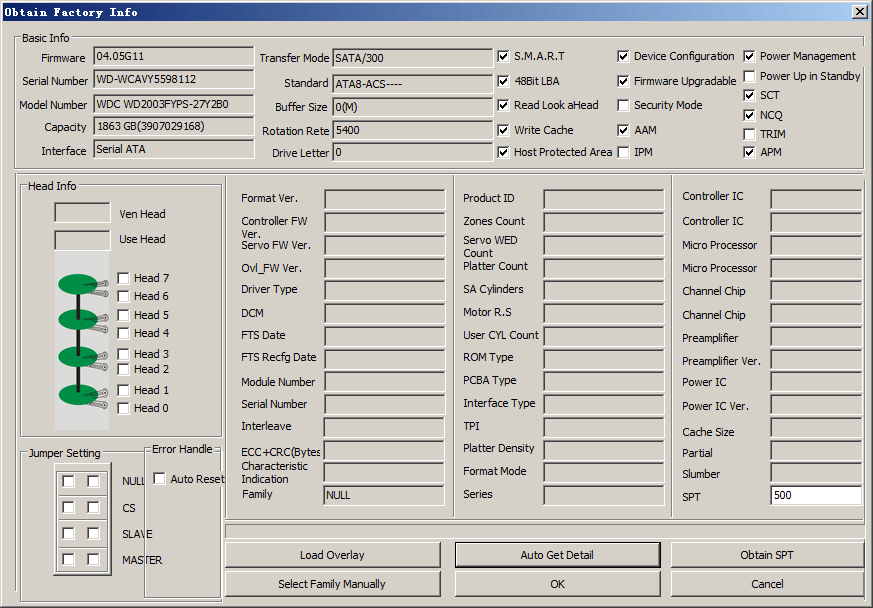 Dolphin Data Lab offers unique solutions to our users to fix above failures.
The tweezers are used to short connect the TV 9 and TV 10.
After above short connection, go to the WD firmware repair software, power on the hard drive and wait until the drive gets ready and then release the short connection. Auto get details and we see there's some difference.
At this time, we can read module 01 only. Next load module dir to RAM, After DIR loading success, users can read other modules. Next users write down the Module DIR starting address (232055) and then go to ROM operations>DIR starting address editing. Go to ROM operations>Head Map and change the head map.
Click OK to confirm the modification and then power off the drive and quit the program.
Next power on the drive and wait until the drive get ready.
Auto get details and load overlay. Next users need to use one of our new function, Load Module DIR under Common Menu. After the module dir is loaded, the modules are listed. Next load module dir to ram. Next go to FW Operations>Unlock SA by ID. Next go to ROM Operations>Head Map and change the map to original.Next go to the ROM Operations> Editing DIR starting address and change the DIR starting address back to the correct one. Next power off and on the hard drive, wait until the drive gets ready, auto get details.
Now all the details are displayed correctly, click ok to enter the program AND users can test all modules normally now. And then users can fix firmware failure, view and reset smart easily.
WD2003FYPS-27Y2B0 Reset Smart And Repair Firmware Failures Video Explanation Here:
Any more question is welcome to sales@dolphindatalab.com or add our skype: dolphin.data.lab
https://www.dolphindatalab.com/wp-content/uploads/2015/03/WD2003FYPS-27Y2B0-Reset-Smart-Repair-Firmware-Failures.jpg
220
707
Stanley Morgan
https://www.dolphindatalab.com/wp-content/uploads/2022/02/280_Dolphin-newest-logo.png
Stanley Morgan
2015-03-18 12:20:51
2015-03-18 12:47:16
WD2003FYPS-27Y2B0 Reset Smart And Repair Firmware Failures