DFL-DE And DFL-DDP Reaches A Higher Level Of Stability And Performance

Dolphin Data Lab is going to release new version of DFL-DE data recovery tool and DFL-DDP USB3.0 data recovery equipment.
Since the release of these tools, we've upgraded them regularly with new data recovery features or urgently to remove some bugs and now they have reached a higher level of stability and excellent performance.
As one professional data recovery hardware tool, it must have proper hardware design, clean and qualified hardware components, especially the main chip used inside the tool,clean and optimized hardware firmware codes controlling the hardware working principles,software codes, interface codes and codes to combine everything.Dolphin Data Lab has each step and each aspect strictly controlled by different engineers. We test, check and optimize all codes according to the new functions and features added to make them perfectly compatible so that the tools work at their best status.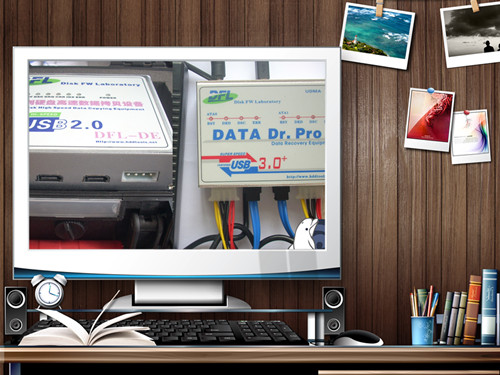 Both these data recovery tools are able to recover data from two hard drives at the same by its ATA 0 and ATA 1 ports, users can connect two hard drives to PC as target hard drives or users can use image to file. Besides double imaging, users can run double file recoveries and double common hdd repairs which double the efficiency of users in the data recovery labs. Getting one DFL-DE or DFL-DDP beat two standard or traditional data recovery tools from other suppliers.
Many users are using these two data recovery tools to handle faulty hard drives: according to users' feedback, they are able to image hard drives with a lot of bad sectors or hard drives which become unstable due to downgraded heads or weak platter area.Users are able to run the tools one week and even half one month 24 hours without a problem. With data recovery field, it's a must for users to have good patience for some cases which can cost you a lot of time.
Dolphin Data Lab are using these DFL-DE and DFL-DDP to recover data lively for some users and the process proves effective for these tools to be debug and improved and stand out of competitors.
For users with many cases each day like some big data recovery companies, DFL-DDP USB3.0 data recovery equipment has become the best choice not only due to its USB3.0 design, double operation ports and combined disk image, file recovery and common hdd repair solutions.
Within 2013, we sincerely invite all to stay and succeed with Dolphin Data Lab.
https://www.dolphindatalab.com/wp-content/uploads/2011/10/data-recovery-making-progress.jpg
200
690
Stanley Morgan
https://www.dolphindatalab.com/wp-content/uploads/2022/02/280_Dolphin-newest-logo.png
Stanley Morgan
2013-05-20 15:49:38
2013-05-20 15:50:15
DFL-DE And DFL-DDP Reaches A Higher Level Of Stability And Performance