Innovative Firmware Repair Function-Loading Module Dir To RAM

Dolphin Data Lab has recently released one innovative useful firmware repair function-loading module DIR to RAM. With this function, it's much easier and faster for users to read and write modules by ID.
This article will demonstrate how to use it for powerful operations on writing common fw and ROM and fix damaged hard drives.
Users format the SA-format the tracks on head 0 and head 1 except the track -1,  after the SA format completes, power off and on, the hdd is not detected any more because SA was not there due to the format.
Users need to load LDR in normal mode and enter the drive.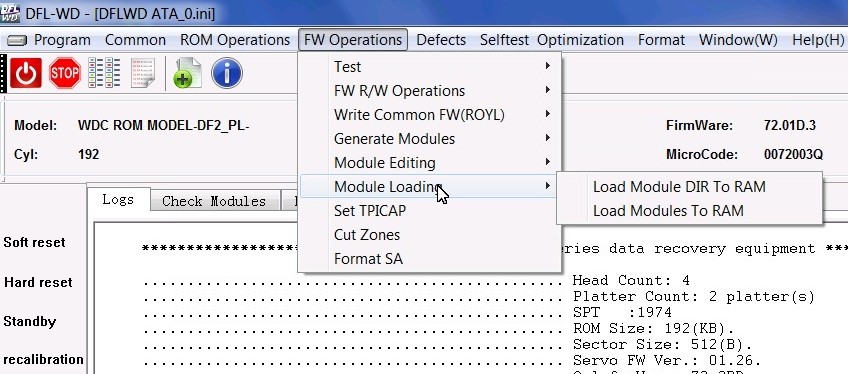 Next users can go to the FW Operations, module loading, load module DIR to RAM. After the module DIR is successfully loaded, users can go to write all modules directly without writing module 01 and 35 first. After modules write completes, power off and on the hdd, the drive is detected perfectly.
If users want data recovery, users can write the original key data recovery modules. DFL-WDII or DFL-FRP WD module Version 2.5x makes both hdd repair and data recovery more effective and efficient.
Any more question is welcome to sales@dolphindatalab.com.
https://www.dolphindatalab.com/wp-content/uploads/2014/01/dfl-wd-new-data-recovery-function.jpg
203
692
Stanley Morgan
https://www.dolphindatalab.com/wp-content/uploads/2022/02/280_Dolphin-newest-logo.png
Stanley Morgan
2014-01-13 22:36:10
2014-01-13 22:36:10
Innovative Firmware Repair Function-Loading Module Dir To RAM