Seagate ST4000VM004 ST4000VX005 B2 HDD LED 0X0BD Spin up and Down HDD Repair and Data Recovery Steps

With DFL New Seagate HDD firmware repair tool, users can easily unlock the Seagate B2 HDD firmware area, fix the LED 0X000000BD spin up and down and other firmware corruption issue, fix the B2 undetected/wrongly detected issue, fix the inaccessible data area issue, etc.
The common Seagate B2 HDD models are as below:
ST4000VM004
ST4000VX005
After connecting the patient B2 HDD to the firmware repair hardware, power on the hdd, users get the repeating LED 0X000000BD COM terminal messages and the patient hdd spin up and down and up and down…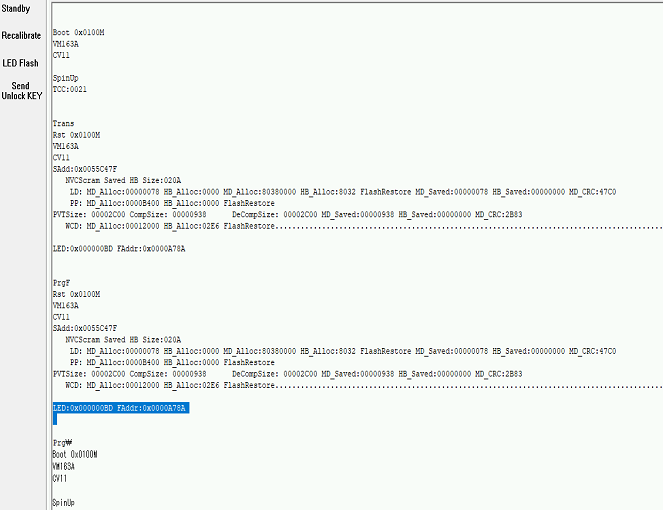 Whenever users get the Seagate B2 patient HDDs, please backup the original ROM, generate unlock rom, write unlock rom, backup important sys files. But if LED has appeared in the COM terminal, users need to backup the original ROM and then generate new ROM for LED repair within the new DFL Seagate hdd repair and then write the new LED repair ROM, next power off and on, the LED issue will be fixed and users can go to DFL-DDP data recovery software and all lost data can be listed for recovery.
If the patient B2 drives have suffered data corruption, users can see hex data but the data is not normally accessed. At this time, users need to use the new B2 Data Repair function and then the data corruption will be automatically repaired and DFL-DDP will list all the partitions and folders properly.
Video case study below:
SEAGATE ST4000VM004 ST4000VX005 B2 HDD LED 0X0BD SPIN UP AND DOWN HDD Repair and Data Recovery Steps
Any question is welcome to sales@dolphindatalab.com or add Dolphin Skype ID: dolphin.data.lab
https://www.dolphindatalab.com/wp-content/uploads/2022/10/Seagate-B2-HDD-Repair-Data-Recovery.png
259
837
Stanley Morgan
https://www.dolphindatalab.com/wp-content/uploads/2022/02/280_Dolphin-newest-logo.png
Stanley Morgan
2022-10-02 21:30:20
2022-10-04 13:32:12
Seagate ST4000VM004 ST4000VX005 B2 HDD LED 0X0BD Spin up and Down HDD Repair and Data Recovery Steps