WDC WD20EZRX-00D8PB0 Undetected HDD Repair and Data Recovery
To recover lost data from one WDC WD20EZRX-00D8PB0 undetected patient hard drive whose PCB number is 2060-771945, the user from Norway used DFL-WD hdd firmware repair tool and DFL-DDP data recovery tool.
When connecting the patient hard drive to DFL-WD firmware repair tool, the hdd was not detected, when trying to obtain the ID details, the error status register was on.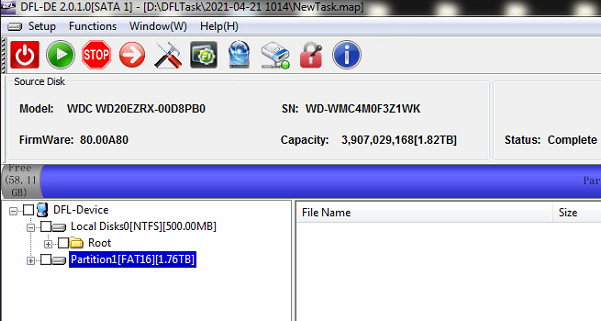 Next the user entered the program by kernel mode and clicked to get the right SPT value.
Next the user backup the rom and used one magic menu-one click to edit the ROM;
Firmware restart and re-entered the program and the firmware module list is available;
Next the user backup the important firmware modules;
Next slow fix;
Next fixed the 36 issue by one click;
Next restore to the original rom and firmware restart;
Next open DFL-DDP data recovery tool, set up one file extraction task and the data recovery program list all the lost partitions and files automatically.
Any question is welcome to sales@dolphindatalab.com or add Dolphin Skype ID: dolphin.data.lab
https://www.dolphindatalab.com/wp-content/uploads/2022/02/280_Dolphin-newest-logo.png
0
0
Stanley Morgan
https://www.dolphindatalab.com/wp-content/uploads/2022/02/280_Dolphin-newest-logo.png
Stanley Morgan
2021-04-22 22:19:28
2022-02-12 11:02:31
WDC WD20EZRX-00D8PB0 Undetected HDD Repair and Data Recovery