Actuator Arm – The portion of the device which tacks the read/write head of the defined path. Actuator Arm physically transfers the actuator's action to the mechanism that it is designed to operate.
The actuator arm works closely with the other moving parts of the hard drive to perform its functions quickly and without failure. This is why the actuator arm is an essential part of the hard drive.To make up the whole head actuator, there are sliders, axles, coils, heads, the motor and two to three arms. The sliders are connected to the arms and attach them to the other parts of the actuator. On the tips of the actuator arms are the heads; they are used to pull off the data and write new data on the magnetic disk.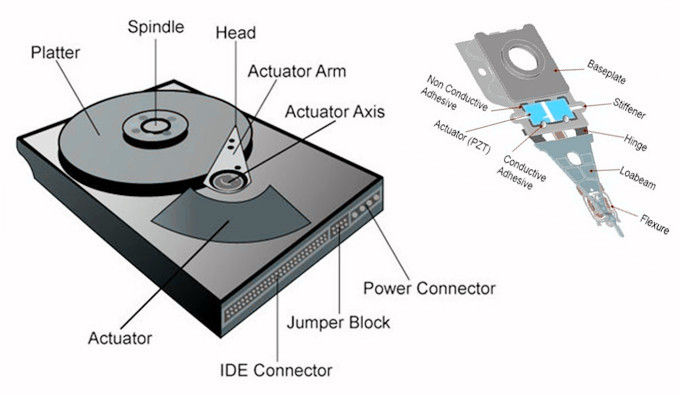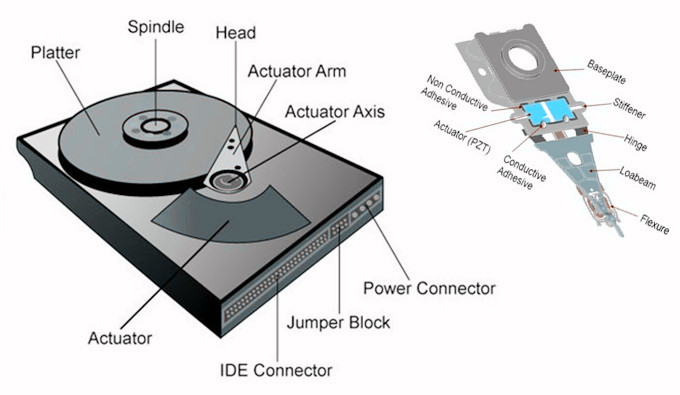 An actuator arm (or access arm) moves the heads on an arc (roughly radically) across the platters as they spin, allowing each head to access almost the entire surface of the platter as it spins. The arm is moved using a voice coil actuator or (in older designs) a stepper motor. As data density increased, read heads using magneto resistance (MR) came into use; the electrical resistance of the head changed according to the strength of the magnetism from the platter.