DFL-DDP USB3.0 Data Recovery Equipment Meets The World's Professional Data Recovery Engineers

Before we develop DFL-DDP(DFL-Data Dr. Pro) USB 3.0 data recovery equipment, we have DFL-DE USB 2.0 data recovery tool. DFL-DE is undoubtedly one good choice for those who start a data recovery business or set up one new data recovery sector in their organizations.
After users grow their data recovery business and get more and more data recovery cases, especially some new faulty hard drives with bigger and bigger capacities of 2TB, 3TB, 4TB, etc, users find the USB 2.0 design cannot meet properly the needs to image these drives or extract files from these drives and after that DFL-Data Dr. Pro came to our research plan and now we have finished the software, hardware, technique documents and guides and some video instructions too.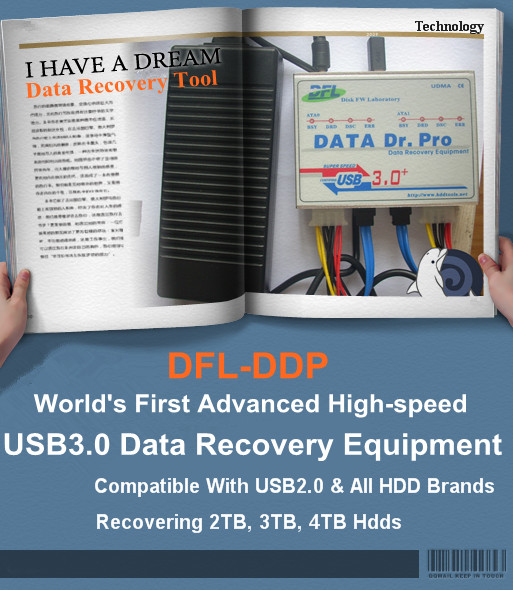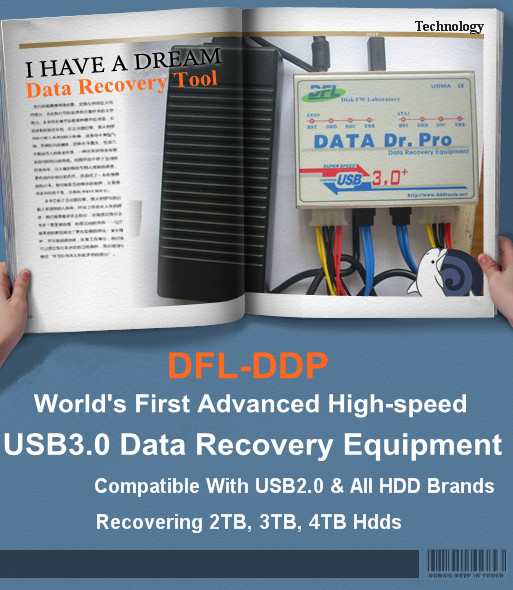 DFL-Data Dr. Pro has proven itself a must-have high-speed advanced data recovery equipment for data recovery engineers who want to enhance their data recovery capabilities, efficiency and success rate in the new situations of data recovery market.
DFL-Data Dr. Pro has three main modules: disk imaging module, file extraction module and common hdd repair module. Among of them, Common HDD repair module is unique in DFL-DDP while other similar data recovery tools don't contain such a module. For many common hdd failures of Seagate, Western Digital and Samsung, DFL-DDP offers fast solutions to them and users can simply run disk imaging or selective file recovery after using the common hdd repair solutions to fix the damaged hard drives by the failures supported. We're adding more fast solutions to this USB 3.0 data recovery equipment.
Users can easily connect the source drive to ATA 0 and target drive to ATA 1 and start imaging; Users can easily connect two hard drives to ATA 0 and ATA 1 and start file extraction; Users can connect two source drives to ATA 0 and ATA 1 and connect two target drives to PC, and start imaging for the two hard drives at the same time. It's flexible to use according to users' demands.
DFL-Data Dr. Pro is the world's first USB3.0 data recovery equipment and we believe it will proudly stand out of any other similar tools with its high-speed and stable performance and unique features.
Users can email to sales@dolphindatalab.com and any question is welcome or users can order DFL-Data Dr. Pro USB3.0 data recovery equipment here in our online shopping center if users have paypal account.
https://www.dolphindatalab.com/wp-content/uploads/2011/10/high-speed-advanced-data-recovery-equipment.jpg
245
798
Stanley Morgan
https://www.dolphindatalab.com/wp-content/uploads/2022/02/280_Dolphin-newest-logo.png
Stanley Morgan
2013-03-20 13:34:53
2013-04-22 11:28:27
DFL-DDP USB3.0 Data Recovery Equipment Meets The World's Professional Data Recovery Engineers