You're Invited To September Portugal Advanced Data Recovery Training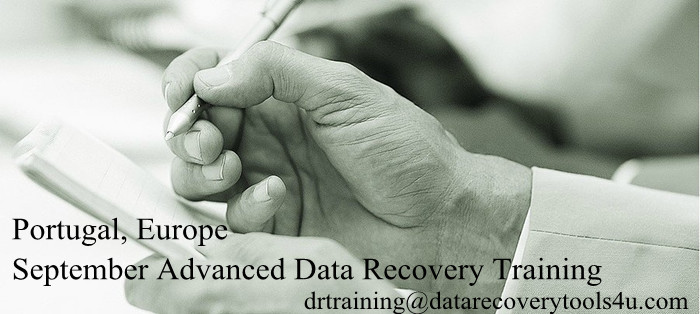 Dolphin Data Lab is happy to join the union with Dolphin Data Lab and Portugal PC Lab and we are now inviting more clients to attend the advanced data recovery training courses in Portugal, Europe.
These training courses are the best choices for those who want to start a data recovery business, for those who want to improve their data recovery success rate or grow their existing data recovery business or for those who are going to set up their own in-house data recovery lab or clean room center. Whether you're IT companies, data recovery companies or law enforcement agencies, these courses can help you reach your target.
When: September 3-7, 2012




Where: Guarda, Portugal, Europe
These advanced data recovery training courses are divided into three separate classes:
Class one: In-depth logical and physical data recovery
This class is called the stage 1 data recovery, you will not only learn the basic data recovery concept but also in-depth study in both logical and physical data recovery technologies and introducing you the 2012 new data recovery tools and solutions.
Class two: Advanced Clean Room Data Recovery Training
This training course teaches how to swap heads and platters safely and recover the lost data from physically damaged hard drives with the most professional head replacement and platter swap tools and also our own customized special head and platter swap tips and technologies. Students will have full hands-on opportunities to work on different models of patient drives with the instructors' help.
Class three: Flash and SSD Data Recovery Training
This training course is not only teaching you how to use the best flash and SSD data recovery tools and technologies to get the lost data back from damaged flash drives and SSD drives with single or multiple chips, either Tsop or BGA chips, but recovering data from jump drives and PCB repair are also introduced and explained in this advanced data recovery training.
Each class above is 5 days/40 hours long and each class has one senior data recovery professor.
It is recommanded when flying to Portugal to land in Porto. This is around 200KM from the class and we will pick up each person to bring them to where the location of the class is. We are working with the students to try and get as many to arrive at the same day to pick them all up and bring them to the location of the class.
You can select the best training course suiting you the best. There is no switching classes in the middle or visiting all 3 classes in this week's time.
These advanced training courses are affordable for everyone and no one else are offering such a great opportunity to learn these advanced data recovery tools and technologies and tips and if you're seeking and expecting data recovery success, you must take these courses. Besides, these advanced training courses are also available in a on-site format and we are able to send out experts to the clients' location for training if the clients cannot take the training together with others such as the clients from law enforcement or government or military agencies or enterprises.
If you're interested in one of above advanced data recovery training course, order one seat now or email to sales@dolphindatalab.com.
Learn more about Logical and Physical Data Recovery Training
Learn more about clean room data recovery training
Lean more about flash and ssd data recovery training
https://www.dolphindatalab.com/wp-content/uploads/2011/10/DDL-September-Data-Recovery-Training.jpg
314
700
Stanley Morgan
https://www.dolphindatalab.com/wp-content/uploads/2022/02/280_Dolphin-newest-logo.png
Stanley Morgan
2012-06-04 11:50:09
2013-04-22 11:29:10
You're Invited To September Portugal Advanced Data Recovery Training